About
Dr Khitish Mohanty
Consultant Trauma & Orthopaedic Surgeon, UK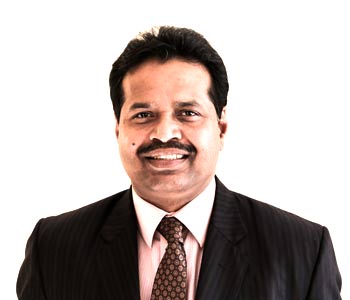 My life has been transformed. I cannot thank him enough. I would not hesitate to recommend him to anyone suffering from S.I. joint problems.
Pat Erickson
Profile & Experience
Mr Mohanty is a full-time, practicing Trauma and Orthopaedic Consultant with training in assessment and surgical treatment of bone, joint and soft tissue conditions.
His work is divided between commitments to his NHS practice at the University Hospital of Wales, the University Hospital of Llandough and private practice at Nuffield Health, Cardiff & Vale Hospitals and Spire Hospital, Cardiff.
Khitish undertook basic surgical training in Mumbai, India after qualification and came to the UK in 1995. He entered the All Welsh Higher Training Programme in Trauma & Orthopaedics and trained at Cardiff, Swansea, Newport and Bangor amongst other places. Khitish was fortunate to train at the world famous Robert Jones and Agnes Hunt Orthopaedic Hospital and obtained higher training in hip and knee replacement surgery.
Khitish then travelled to Calgary in Canada and spent a year at the Foothills Hoapital, Calgary and obtained a fellowship in orthopaedic trauma surgery. He received special training in management of complex fracture, trauma, pelvic and hip socket injury and sacroiliac joint surgery.
On his return to the UK, Khitish was appointed as a Consultant in Trauma & Orthopaedic Surgery at the Cardiff & Vale University Health Board in 2004. He continues to work as a full-time consultant at Cardiff.
Mr Khitish Mohanty has received specialist training both in the UK and abroad in the management of pelvic, hip and knee condition. He is based at Cardiff and provides tertiary specialist service for pelvic conditions across South East Wales.
Mr Mohanty is an honorary lecture of Cardiff University in trauma and orthopaedics. Khitish has been involved in higher surgical training in Wales for last 7 years. In 2016, he was appointed as the Training programme director of All Wales higher surgical programme in Trauma and Orthopaedics.
Education
Fellowship in Canada – 2002-2003
One year fellowship in Orthopaedic Trauma at the University of Calgary, Canada. Mr. Mohanty obtained specialist training in management of complex fractures including reconstruction of fractures of pelvic ring injuries and hip socket fractures.
Arthroplasty Training – 2001-2002
One year Senior Specialist Registrar level training in lower limb joint replacements at the Robert Jones and Agnes Hunt Orthopaedic Hospital, Oswestry.
Specialist Registrar – 1996-2001
Specialist Registrar in the All Wales Orthopaedic Higher Surgical Training Programme, rotating through various hospitals in Cardiff, Newport, Swansea, Bangor and Oswestry.
Qualifications
FRCS (Trauma & Orthopaedics): 

Fellow, Royal College of Surgeons, Intercollegiate – Specialty Examinations, November 2001.

RCS (Edin): 

Fellow, Royal College of Surgeons, and The Royal College of Surgeons of Edinburgh, October 1998.

MSc (Orth-Engn): 

Masters degree in Orthopaedic Engineering, University of Cardiff, UK, June 2001.

DNB (Orth): 

Diplomat National Board of Examination, National Board of Examinations, New Delhi, India, December 1994.

D-ORTH: 

Diploma in Orthopaedics, College of Physicians and Surgeons, Bombay, India, October 1992.

ATLS: 

Advanced trauma life support, Instructor. U.K, April, 2002

MBBS: 

Bachelor of Medicine and Surgery, Berhampur University, Orissa, India. June 1989.
Academic Distinctions
'Best Trainer' 2012 -2013 Voted as the best trainer by the British Orthopaedic Trainee Association of Wales

AOUK Annual research prize for the best trauma research 2003

First prize in National essay writing competition conducted by The Royal College of Surgeons of England, 2001
Publications
1. Anterior cruciate ligament reconstruction using patellar tendon autograft. M.N.Sehar, K Mohanty, R.M.Davies; Morriston Hospital, Swansea, Orthopaedic Update (India) 2000; Vol 10(1): 26-29
2. Posterior dislocation of Hip in adolescents due to casual rugby. Report of two cases and review of literature. K Mohanty, SK Gupta, A Langston; Morriston Hospital, Swansea, Journal of Accident and Emergency medicine, Nov, 2000;Vol 17:429
3. Sub periosteal ganglion, accurate diagnosis by pre-op imaging, A Case i. Report, K Mohanty, M.N. Sehar, Morriston Hospital, Swansea, Orthopaedic Update (India) 2000: Vol 10(2) page 70
4. Check X-rays for internally fixed hip fractures – is it necessary? Review of hundred cases and discussion on its cost effectiveness, K Mohanty, S.K.Gupta, R.M.Evans, Morriston Hospital, Swansea, Journal of the Royal College of Surgeons of Edinburgh2000; 45(6): 98-99
5. Fluid pressure around the distal tip of a loose Exeter hip prosthesis under cyclic loading, K Mohanty, SL Evans, Cardiff School of Engineering, Cardiff, J Bone Joint Surgery (Br) 2000; 82-B: Supp 3:261
6. What makes a surgeon competent? How can you tell? K Mohanty, Annals of the Royal college of Surgeons of England (suppl) 2001:83:232-233
7. Orthopaedic manifestations of Smith-Magenis syndrome, J Spilsbury, K Mohanty, University Hospital of Wales, J Pediatr Orthop B.2003 Mar;12(2): 147-150
8. Maffuci-Lymphagioma Syndrome: a case report and review of literature, J Auyunng, K Mohanty, K.J. Tayton, Royal Gwent Hospital, Newport, J Pediatr Orthop B.2003 Jan; 12(1): 22-26
9. The role of frozen section in the diagnosis of infection during revision arthroplasty, AD Musso, K Mohanty, R Spencer-Jones, RJAH, Oswestry. Postgrad Med J 2003; 79:590-593.
10. Nonunion of acetabular fractures, K Mohanty, W.Taha, J N Powell. Foothills Hospital, Calgary. Injury, Int J care Injured.2004; 35(8): 787-790.
11. Transient brachial plexus block after MUA and injection of shoulder: a case report, K Mohanty, P Roberts, CP Kelly. RJAH, Oswestry. Journal of Shoulder and Elbow Surgery. 2005 Mar-April;14(2):216-7.
12. Effect of a venous filter on embolic load during medullary canal pressurization: a canine study. K Mohanty, J N Powell, D Musso, M Traboulsi, B Mullen, I Belankie and J V Tyberg, University of Calgary. J Bone Joint Surg Am.2005 Jun;87(6):13332-7.
13. Emergent management of unstable pelvic ring injury: an update. K Mohanty, D.Musso, JN Powell, JB Kortbeek, AW Kirkpatrick. University of Calgary. Can J Surg.2005 Feb; 48(1):49-56.
14. Simple Elbow dislocations in adults- a comparative study of two different methods of treatment. S. Maripuri,UK Debnath, K Mohanty. Injury, Int J care Injured.2007; 38: 1254-1258. 15. Sleeve fracture of the superior pole of patella with an intra articular dislocation: A case report. S Maripuri, H Mehta, K Mohanty. J Bone Joint Surg Am 2008;90 385-389.
16. Lower limb malrotation following MIPO technique of distal femoral and proximal tibial fractures. K Mohanty, D Malish, R Buckley.Injury,Int.J.care Injured 42(2011)194-199.
17. The Classification system of Tibial Plateau Fracture: How reliable are they?. S N Maripuri, P.Rao, A Manoj-Thomas, K Mohanty . University Hospital of Wales Cardiff. Injury, Int J care Injured.2008; 39(10) 1216-21.
18. Percutaneous Fusion of the Sacroiliac Joint with hollow modular anchorage screw: clinical and radiological outcome. Khurana A,Guha AR, K Mohanty , Ahuja S. University Hospital of Wales, Cardiff. J Bone Joint Surg Br 2009 May;91(5): 627-31.
19. A rare case of primary bone lymphoma mimicking a pelvic abscess. Singh R, Al Wattar BH, Mohanty K. Ann R Coll Surg Engl. 2011 Oct;93(7):e141-3. doi: 10.1308/147870811X602168.
20. Malreduction of syndesmosis–are we considering the anatomical variation? Mukhopadhyay S, Metcalfe A, Guha AR, Mohanty K, Hemmadi S, Lyons K, O'Doherty D. Injury. 2011 Oct;42(10):1073-6. doi: 10.1016/j.injury.2011.03.019. Epub 2011 May 6
21. Comminuted proximal Ulna fractures: injury pattern surgical techniques and outcome Mofidi, Ali1; Tiessen, Lars2; Maripuri, Nidu2; Mohanty, Khitish2.European Journal of Orthopaedic Surgery & Traumatology, Volume 20, Number 7, October 2010 , pp. 539-546(8)
22. The percutaneous stabilisation of the sacroiliac joint with hollow modular anchorage screws: a prospective outcome study Lyndon W. Mason, Iqroop Chopra , Khitish Mohanty. Eur Spine J (2013) 22:2325–2331.
23. The Correlation of Serum Metal Ions with Functional Outcome Scores at Three-to-Six Years following Large Head Metal-on-Metal Hip Arthroplasty, Sheethal Prasad Patange Subbarao, Ibrahim A. Malek, Khitish Mohanty, Phillip Thomas, and Alun John ISRN Orthopaedics.Volume 2013 (2013), Article ID 173923.
24. Management of Mason type 1 radial head fractures: a regional survey and a review of literature. Samer S S Mahmoud, Abdul Nazeer Moideen, Rahul Kotwal, Khitish Mohanty. Eur J Orthop Surg Traumatol 2013 Dec 11. Epub 2013 Dec 11
25. Three-column classification and Schatzker classification: a three- and two-dimensional computed tomography characterisation and analysis of tibial plateau fractures. Sheethal Prasad Patange Subba Rao, James Lewis, Ziad Haddad, Vishal Paringe, Khitish Mohanty Eur J Orthop Surg Traumatol 2013 Sep 8. Epub 2013 Sep 8.
26. Patient estimates of healthcare costs in trauma and orthopaedics. Francis Brooks, Vishal Paringe, Aurey Tonge, James Lewis, Khitish Mohanty Eur J Orthop Surg Traumatol 2013 Aug 20;23(6):639-42. Epub 2012 Jul 20.
27. Tibial shaft fracture S Naidu Maripuri, K Mohanty. Oxford Text book of Orthopaedics and Trauma, 2nd edition. Oxford University Press,2011.1362-1378.
28. Trauma Chapter in ''Current Orthopaedic Practice'' TFM Publishing Limited, 2012; 315-398.
Teaching Experience
Best Trainer of Wales: 2012 : Received this prestigious award and Trophy after being voted by majority of trainees of All wales Training program.
I have been appointed as an honorary lecturer by Cardiff University since 2008. I am actively involved in postgraduates and undergraduate education of the university. I deliver lectures to undergraduate students in trauma and Orthopaedics and am responsible for registrar and senior registrar training on the Welsh Training Program. I have successfully organised and taught in the ''Trauma Block'' of Core curriculum teaching of the Welsh Training Program since 2007.
European Preceptor for SI joint Surgery (Globus Medical)
Involved in surgeon- education of SI joint surgery. I regularly receive visiting surgeons from the UK and abroad. I demonstrate percutaneous SI joint surgery and teach the surdical technique.
Chairman of "Cardiff Trauma Update". I have chaired this Bi – annual Cadaveric trauma course designed for Consultants and Registrars at Cardiff since 2009.
Chairman of Cardiff FRCS VIVA course, Trauma section: I have successfully chaired the trauma section of this successful course for the last 3 years.
Faculty member of "Core skill in Orthopaedic Surgery" since 2005. This course is organized by the Royal College of Surgeons of England.
Faculty member of The Basic Surgical Skills Course held at the WIMAT Center, Cardiff since 2003.
Faculty member of of 1st Sacro Iliac Joint Stabilization Course held at Cardiff University, September 2013.
ATLS instructor since 2003 and routinely instructs in advance trauma and life support courses all over the country.
I am an AO teacher and has been on the faculty of AO UK since 2005. I have participated in the annual AO course since 2005 on a regular basis and taught the Surgeons and Nurses on Fracture Fixation.
I am also on the faculty board of MSC Course on Orthopedic Engineering at Cardiff University and MSC in trauma surgery at University Swansea and deliver regular lectures in these courses.
Member of the teaching faculty in Orthopedics for undergraduates of the University of Wales college of Medicine.
Memberships