Testimonials
Mr Khitish Mohanty
Consultant Trauma & Orthopaedic Surgeon, UK
A Selection of Letters and Thank You Cards
Mr Mohanty has made my life worth living again. I was experiencing brutal and extreme left buttock pain that had deteriorated over the last six months. This pain was very hard to manage even with very strong medication.
I found Mr Mohanty to be very professional in all our dealings and he arranged a CT scan guided SI- joint injection that confirmed conclusively and without any doubt, the source of my pain.
The procedure using key hole surgery to stabilize the SI joint was successfully undertaken on the 11th September 2015 using i-fuse products. He undertook this operation with caution to ensure there was no nerve damage around the area which is imperative to the success of this procedure. I am now six weeks post-op, progressing well and I can now get on with the rest of my life.
Mr Mohanty is a very pleasant, professional and confident surgeon and his manner puts you at ease pre and post operation. I consider myself to be very lucky to have been referred to him back in August as an eminent pioneer in the UK for this procedure.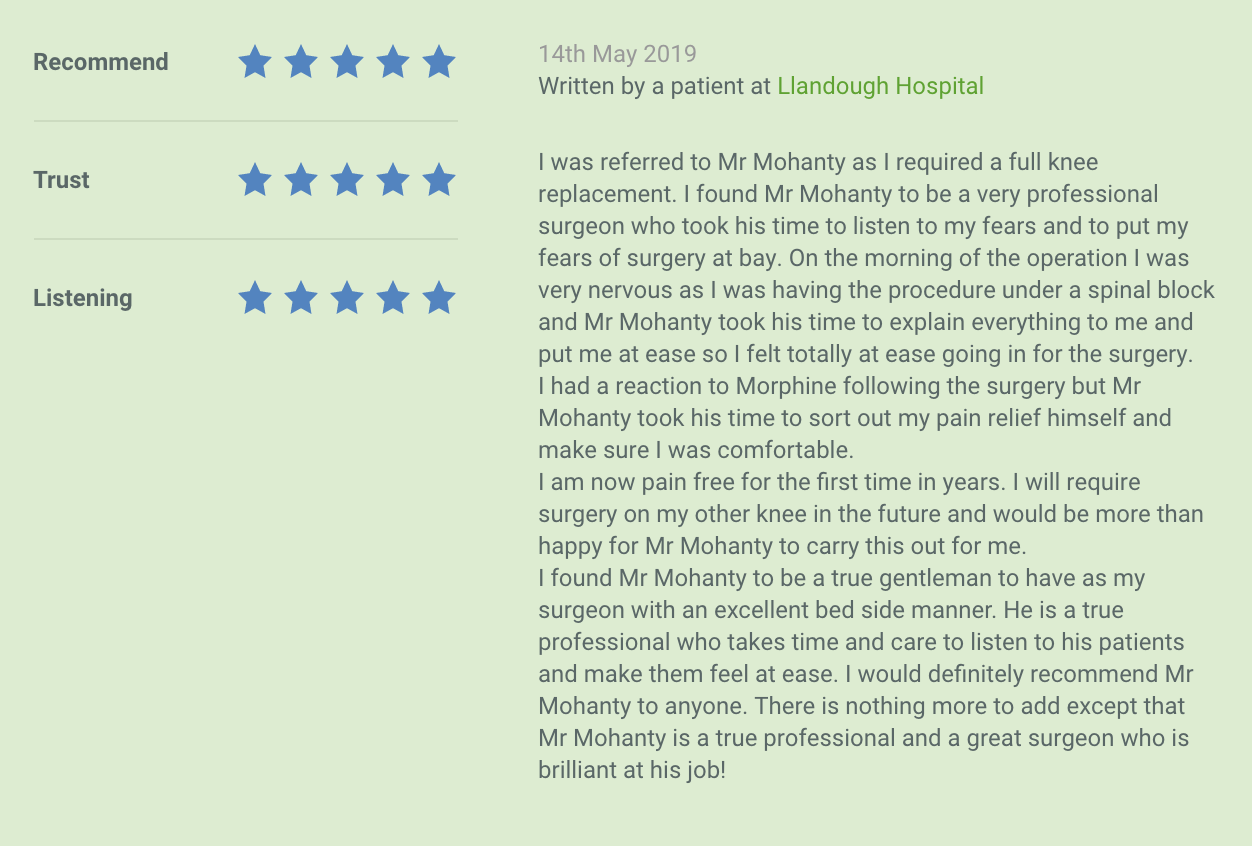 Under the expertise of Mr Mohanty I had a right hip joint replacement with the procedure being carried using an epidural anaesthetic. The results transformed the quality of my life, within days I was mobile, 4 weeks later I was walking unaided and around 7 weeks my whole movement felt and looked perfectly normal as if I had never had an arthritic hip problem. At 66 years old I immediately retired to enjoy my new found freedom and mobility, my golf game has returned. From the first consultation to my full recovery the attention, care, confidence he gave me and the result made Mr Mohanty the perfect professional trauma and orthopaedic choice.
I was referred to Mr.Khitish Mohanty to undertake a complete hip replacement for me. This was going to be a complex situation because I have Hepatitis C and as a result have a serious problem with infection. Also I had previously spent five months in hospital with septicaemia.
Mr.Mohanty and his anaesthetist took great care to take these problems into account and set up a amazing back up system for me at Llandough hospital. They arranged for me to be covered by the various specialties including a stay of 48 hours in the Intensive Care Unit.
Mr.Mohanty's professionalism and attention to my personal medical requirements was outstanding. I am most grateful to him.
Dear Mr Mohanty, I am feeling absolutely fine and exercising at the gym and walking regularly. I am happy to live with the plate and screws etc that you put in to heal my femur fracture and hope that titanium has a very long life! I can never thank you enough for your skill and professionalism in enabling me to literally get back on my feet again and walk properly.
Kind Regards,
After suffering back and bilateral hip and leg pain which was incapacitating at times, I was referred to a spinal consultant. Following investigations and steroid injections, the consultant thought much of the pain was caused by the S.I. joints, and referred me to Mr. Kitish Mohanty. Further investigations followed and Mr. Mohanty thought I would benefit from percutaneous fusion of the S.I. joint.
Although I was aware of Mr Mohanty's high success rate in over a hundred operations of this type, I was nevertheless reluctant to undergo surgery. But as the pain had become incapacitating, I felt that surgery was the only option.
The first operation was performed on the (R) S.I. joint in February 2013. The benefit was felt almost immediately. The post-operative pain was far less severe than it had been pre-operatively.
I was discharged home the following day and advised to partially weight-bear for 4 weeks. As the surgery was so successful, I underwent the same procedure on the left side in July 2013, with equally good results.
Mr. Mohanty instilled confidence from the first consultation, and ensured I was fully aware of what the surgery entailed. Since the operations, my life has been transformed. I cannot thank him enough.I would not hesitate him to anyone suffering from S.I. joint problems.
Sincerely,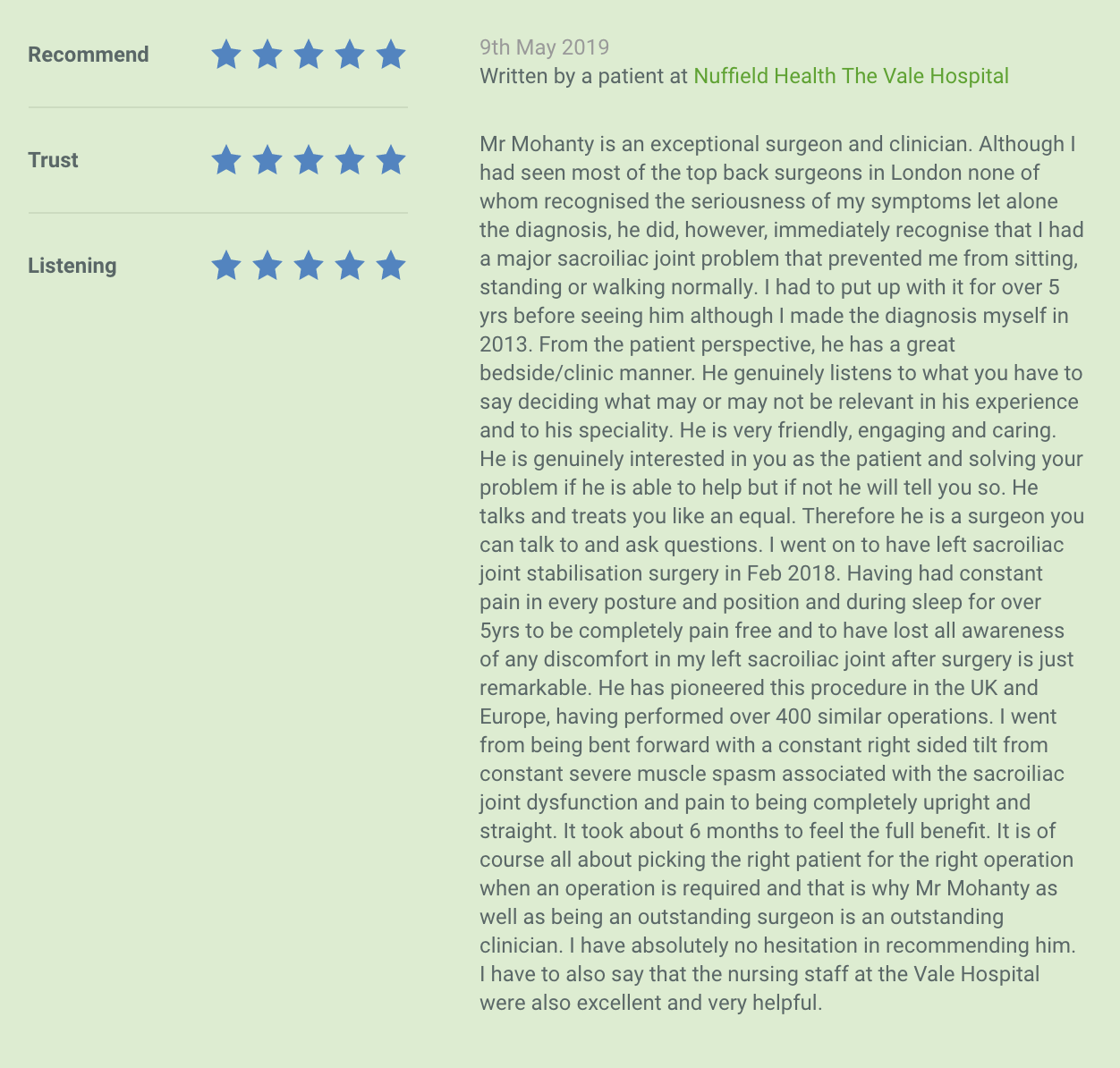 Dear Mr Mohanty, I just wanted to write to you following seeing you at the trauma clinic last week. I left the trauma clinic feeling like the luckiest person in the world and with a massive smile on my face, thank you for your kind and positive words and advice. You mentioned my positive attitude and I am a hugely positive person, but I was only able to be positive as I had confidence in you and your team to do the best job you could in putting me back together. I never really got a chance to thank you personally for coming to see me initially and agreeing to do the operation on me so swiftly after my accident, so thank you for that as well.
As soon as we talked and you explained what was to be done, I had immediate confidence in your ability and that gave me a huge boost. I really appreciated you taking the time to see me every time you came to the ward throughout my recovery at UHW, whether we needed to catch up or not.I know I'm extremely lucky to be in as good shape as I am now, but I attribute a lot of that to the skill of you and your surgical team and the whole team at UHW that looked after me, rather than luck.
I know I still have a way to go to get back to where I'd like to be, but I am certainly back enjoying life, and I shall continue to give 100% with physios and the other consultants at Bristol to get back to as close to 100% as possible and ensure that all the work you put in is not wasted.
I can't thank you enough, I am extremely appreciative, there were some daunting moments in the last 5 months and to be back at home in Bristol with my girlfriend so soon, living a normal life again didn't always seem so close. My family also send their thanks and regards.
Best wishes and I look forward to catching up in September,