About
Mr Khitish Mohanty
Consultant Trauma & Orthopaedic Surgeon, Cardiff, Wales, UK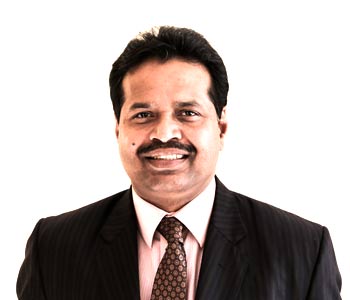 My life has been transformed. I cannot thank him enough. I would not hesitate to recommend him to anyone suffering from S.I. joint problems.
Profile & Experience
Mr Mohanty is a full-time, practicing Trauma and Orthopaedic Consultant with training in assessment and surgical treatment of bone, joint and soft tissue conditions.
His work is divided between commitments to his NHS practice at the University Hospital of Wales, the University Hospital of Llandough and private practice at Nuffield Health, Cardiff & Vale Hospitals and St Joseph Hospital, Newport.
Khitish undertook basic surgical training in Mumbai, India after qualification and came to the UK in 1995. He entered the All Welsh Higher Training Programme in Trauma & Orthopaedics and trained at Cardiff, Swansea, Newport and Bangor amongst other places. Khitish was fortunate to train at the world famous Robert Jones and Agnes Hunt Orthopaedic Hospital and obtained higher training in hip and knee replacement surgery.
Khitish then travelled to Calgary in Canada and spent a year at the Foothills Hoapital, Calgary and obtained a fellowship in orthopaedic trauma surgery. He received special training in management of complex fracture, trauma, pelvic and hip socket injury and sacroiliac joint surgery.
On his return to the UK, Khitish was appointed as a Consultant in Trauma & Orthopaedic Surgery at the Cardiff & Vale University Health Board in 2004. He continues to work as a full-time consultant at Cardiff.
Mr Khitish Mohanty has received specialist training both in the UK and abroad in the management of pelvic, hip and knee condition. He is based at Cardiff and provides tertiary specialist service for pelvic conditions across South East Wales.
Mr Mohanty is an honorary lecture of Cardiff University in trauma and orthopaedics. Khitish has been involved in higher surgical training in Wales for many years. Khitish has just completed his tenure as the Training programme director of All Wales higher surgical programme in Trauma and Orthopaedics. He is currently the clinical director for Orthopaedic Trauma.
Education
Fellowship in Canada – 2002-2003
One year fellowship in Orthopaedic Trauma at the University of Calgary, Canada. Mr. Mohanty obtained specialist training in management of complex fractures including reconstruction of fractures of pelvic ring injuries and hip socket fractures.
Arthroplasty Training – 2001-2002
One year Senior Specialist Registrar level training in lower limb joint replacements at the Robert Jones and Agnes Hunt Orthopaedic Hospital, Oswestry.
Specialist Registrar – 1996-2001
Specialist Registrar in the All Wales Orthopaedic Higher Surgical Training Programme, rotating through various hospitals in Cardiff, Newport, Swansea, Bangor and Oswestry.
Qualifications
FRCS (Trauma & Orthopaedics): 

Fellow, Royal College of Surgeons, Intercollegiate – Specialty Examinations, November 2001.

RCS (Edin): 

Fellow, Royal College of Surgeons, and The Royal College of Surgeons of Edinburgh, October 1998.

MSc (Orth-Engn): 

Masters degree in Orthopaedic Engineering, University of Cardiff, UK, June 2001.

DNB (Orth): 

Diplomat National Board of Examination, National Board of Examinations, New Delhi, India, December 1994.

D-ORTH: 

Diploma in Orthopaedics, College of Physicians and Surgeons, Bombay, India, October 1992.

ATLS: 

Advanced trauma life support, Instructor. U.K, April, 2002

MBBS: 

Bachelor of Medicine and Surgery, Berhampur University, Orissa, India. June 1989.
Academic Distinctions
'Surgery star'  award winner for clinical excellence in 2022

'Best Trainer' 2012 -2013 Voted as the best trainer by the British Orthopaedic Trainee Association of Wales. Voted Best Trainer of the year again in 2022.

AOUK Annual research prize for the best trauma research 2003

First prize in National essay writing competition conducted by The Royal College of Surgeons of England, 2001
Teaching Experience
Best Trainer of Wales: 2022 and 2012: Received this prestigious award and Trophy after being voted by majority of trainees of All wales Training program. Only Consultant thus far to receive the award twice.
I have been appointed as an honorary lecturer by Cardiff University since 2008. I am actively involved in postgraduates and undergraduate education of the university. I deliver lectures to undergraduate students in trauma and Orthopaedics and am responsible for registrar and senior registrar training on the Welsh Training Program. I have successfully organised and taught in the ''Trauma Block'' of Core curriculum teaching of the Welsh Training Program since 2007.
Chairman of Surgeon Training Symposium on SI Joint Surgery held at Cardiff.
Involved in surgeon- education of SI joint surgery. I regularly receive visiting surgeons from the UK and abroad. I demonstrate percutaneous SI joint surgery and teach the surdical technique.
Chairman of "Cardiff Trauma Update". I have chaired this Bi – annual Cadaveric trauma course designed for Consultants and Registrars at Cardiff since 2009.
Chairman of Cardiff FRCS VIVA course, Trauma section: I have successfully chaired the trauma section of this successful course for the last 3 years.
Faculty member of "Core skill in Orthopaedic Surgery" since 2005. This course is organized by the Royal College of Surgeons of England.
Faculty member of The Basic Surgical Skills Course held at the WIMAT Center, Cardiff since 2003.
Faculty member of of 1st Sacro Iliac Joint Stabilization Course held at Cardiff University, September 2013.
ATLS instructor since 2003 and routinely instructs in advance trauma and life support courses all over the country.
AO teacher and has been on the faculty of AO UK since 2005. I have participated in the annual AO course since 2005 on a regular basis and taught the Surgeons and Nurses on Fracture Fixation both in the principles and the advanced course.
I am also on the faculty board of MSC Course on Orthopedic Engineering at Cardiff University.
Member of the teaching faculty in Orthopedics for undergraduates of the University of Wales college of Medicine.
Training Programme Director of All Wales higher Surgical Training Programme. Successfully completed his tenure as TPD in 2022.
Memberships